Upcoming Releases

A Pet Rescue Mystery
Berkley Prime Crime
February 2013

Alpha Force
Harlequin Nocturne
February 2013

I'm Linda O. Johnston. Welcome to my website!
Mystery, paranormal romance and more… I've a lot of interests, and the diversity spills over into my writing.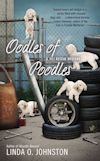 Much of my fiction today involves animals--shapeshifters in my paranormal romances, real animals in my mysteries. February is going to be an especially busy month for me. OODLES OF POODLES, the fourth in my Pet Rescue Mystery series, which is a spinoff from my Kendra Ballantyne Pet-Sitter mystery series, will be published. And, of course, BEAGLEMANIA, THE MORE THE TERRIER, and HOUNDS ABOUND are still available. The next book in my Alpha Force miniseries from Harlequin Nocturne, also number four, will also be published in February: UNDERCOVER WOLF.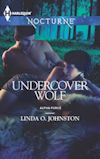 Researching and writing about pet rescues has become a passion. There is an amazing community of people devoted to saving pets. I salute them all and intend to acknowledge and encourage some of the best. Please join me!
I am delighted to say that I was chosen by my mystery publisher, Penguin Group (USA) of which Berkley Prime Crime is an imprint, to participate in their Read Humane Program. They've donated a substantial amount of money to the Humane Society of the United States Animal Rescue Team and, to encourage others to learn about the organization and to donate, they have printed copies of participating books with a special Read Humane seal and generated special store displays. The other authors are Rebecca M. Hale, Alison Pace, Miranda James, and Sofie Kelly, as as Nora Roberts, who is the program's spokesperson.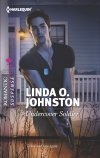 I also had a book coming out recently with no animal ties, UNDERCOVER SOLDIER, a Harlequin Romantic Suspense, which was a July 2012 release.
So what's your reading pleasure? A good story with a satisfying ending? Mine, too--and that's what I like to write, no matter what the genre or subgenre.
Come visit me at the Killer Hobbies blog. I blog weekly, mostly about pets. My fellow bloggers, also mystery writers whose characters have hobbies to die for, will discuss interests ranging from crocheting to scrapbooking, miniatures, needlework and rubber stamping. My pet posts are there every Wednesday.
In 2013, I'll be teaching two online classes for Savvy Authors: How to Blend Romance and Suspense, and How to Write Cozy Mysteries. I love to help aspiring writers!
I'm still active on Facebook. Please come friend me there!
Happy reading,
Linda O! Johnston